Looking for Open Educational Resources? This looks like a very useful service from GMU:
The Mason OER Metafinder helps you find Open Educational Resources. Unlike other OER repositories (e.g, OER Commons, MERLOT, OpenStax, etc.) with our Metafinder you aren't searching a database that we built. Many other sites already perform this important curation service and to be honest, we don't have the time or staff to build or even maintain currency in that sort of database. Instead, our contribution to the progress of Open Education is to concentrate on OER discovery—helping you find current content wherever it resides–even if it's a new OER title that just dropped earlier today.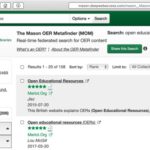 The OER Metafinder performs a simultaneous search across 18 different sources of open educational materials. Because it is a real-time, federated search, it can take a bit longer than searches of pre-indexed, curated content; however, as compensation the results returned are absolutely up-to-the-minute for each search target. Additional results will continue to trickle in as the search continues running and you begin examining your results.
A distinct feature of the Mason OER Metafinder is the scope of our discovery service. We're searching well-known OER repositories like OpenStax, OER Commons, MERLOT but also sites like HathiTrust, DPLA, Internet Archive and NYPL Digital Collections where valuable but often overlooked open educational materials may be found.
Our OER Metafinder is built using the Explorit Everywhere! software developed by Deep Web Technologies in Santa Fe, New Mexico. We use their software to provide a number of different metafinders for Mason researchers (e.g., our Sciences Metafinder is a quite popular example).
If you want to know more about the Metafinder or have ideas for additional search targets, contact Wally Grotophorst.

To keep up with the latest news about the Metafinder, follow @OerMason What are we searching?